April L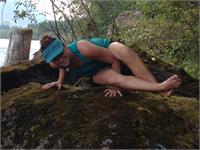 Being a wife and a mother of 5, April realized early on that taking time to practice yoga had many benefits, not just for her, but others around her as well. Her classes focus on breathing, alignment, lots of core work and balancing of ease and effort. April's 200 hour training was done at Shakti with Lisa Black. She was fortunate enough to study with Ana Forrest.
She believes every body can benefit from yoga. and teaches chair yoga, and is constantly amazed at how the practice positively affects people.
She lives by the philosophy that the best teachers of this practice , are the students of this practice.
April L instructs the following:
First half of this class focuses on strengthening from the middle of the body out, and second half leads into long holds more Yin type postures




This all levels class focuses on a flowing sequences and strength building holds. It finishes with poses carefully chosen to prepare you for the rest of your day.




Cultivate strength and relaxation with this class filled with dynamic movements, long juicy holds with a balance of yin postures.




A beginner friendly all levels yoga class that features a slower pace and more alignment instruction.




Discover the gentle side of yoga in this 4 week yoga series. Slow movements will guide us through yoga postures that will help to liberate the body and mind of pain and stress.

Please not that this is a special enrollment and regular class cards and other discounts do not apply.